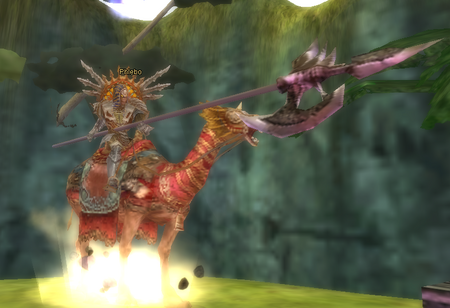 <- Previous Dungeon: Hallucinatory Trench - - Alternate Dungeon this level: Brimstone Pit (Sage) ->
Entrance in The Harshlands, north of Snowy Village. Dungeon for the Demon cultivation; the Sage cultivation is in Brimstone Pit.
Most of the monsters can be got out of the way of the bosses by giving two Tukang's Wine to the Old Swordsman at the entrance. Mister Tso in West Archosaur gives them for 15 Lumber Essences, 15 High Alloy Steel, 15 Granite, and 15 Extruded Charcoal each.
Thousand Year Spirit. BH I for level 80-89 characters, and for 90-100 characters. A bugged Bounty Hunter quest description says "Thousand Year Spirit that lives in the Cave of the Vicious".
Ninetails. BH II for level 80-89
Phlebo. BH III, 80-89
After players complete the BH and go to the Demon NPC to complete the Cultivation, they will probably need to relog before they can use skill books.
Links